Crayola 11103 Keyboard, Mouse and Mouse Pad Bundle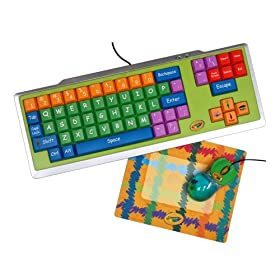 Product Description
The 11103 Crayola Keyboard Mouse and Mouse Pad Bundle from Sakar will light up your computer experience with its' multicolor design and easy to use design.
Product Description
With its vivid Crayola colors and oversized keys, specially designed to make typing easier for kids, this keyboard will make learning fun! Teach your little one how to type with Crayola EZ Type Keyboard. Works alone or with other Crayola computer accessories! The colorful Crayola EZ Click Mouse and precise optical sensor along with exciting water globe effects will certainly make learning fun. Those little hands are now able to use the computer correctly! Compact size mouse from Crayola helps children move around the computer without any trouble! Turn your mouse pad into a work of art! Slide any 4″ x 6″ photo or art drawing into the sleeve and change it as often as you like. This easy to use mouse pad is optical mouse friendly.