Kinesis Ergonomics Mac Keyboard, Freestyle solo USB, White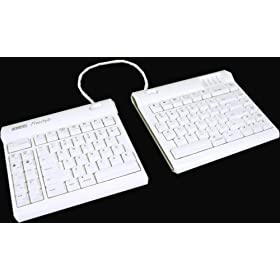 Product Description
The Kinesis® FreestyleTM adjustable split keyboard is a breakthrough in ergonomic design. Created with input from ergonomists and health professionals, the Freestyle adapts to the specific needs of each user, while providing a stylish accent to any workstation.
Featuring simple, sturdy adjustment mechanisms the Freestyle is intuitive to configure and use. Other unique features of the Solo keyboard include driverless hot keys for mouse intensive actions, an embedded 10-key, low-profile design to promote neutral wrist posture, a Pivot TetherTM connecting the two keying modules together and quiet, tactile key switches.